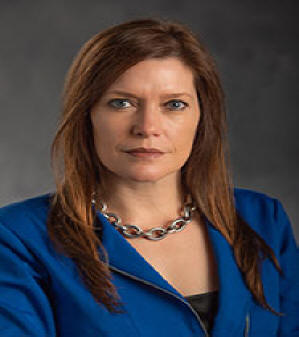 Trust Renee No Way
I Will Not Vote for MSU Trustee Renee Knake Jefferson for MSU Trustee Due to a Colin Powell Like Moment

Trustee Renee Knake Jefferson was appointed by Michigan Governor Gretchen Whitmer to finish the term of Trustee George Perles who resigned, and the resignation of his replacement Trustee Nancy Schlichting who was appointed by then Governor Rick Synder. Trustee Schlichting strongly advocated that MSU release to the public documents related to the Larry Nassar scandal that MSU withheld due to attorney client privilege. Trustee Schlichting resigned when she felt that she could not work with the MSU Board of Trustees when the majority of the Board would not support her position on releasing the documents.
At the time Professor Jefferson was appointed trustee it was reported that she was an outsider to MSU, a former tenured MSU professor who worked for about ten years at MSU, an expert on legal ethics, currently the Doherty Chair in Legal Ethics at the University of Houston Law Center, author of highly acclaimed books including Legal Ethics for the Real World, an innovator in the legal profession, and a highly respected attorney. Please, click here for her full CV, which is very extensive. In short Trustee Renee Knake Jefferson is a superstar in her profession.
The late Colin Powell was a superstar in his profession, and one of the most respected Americans of all time. Colin Powell will be most remembered for the act he most regretted, his 2003 presentation to the UN security council laying out US evidence of Iraqi weapons of mass destruction, which turned out not to exist.
I feel that Trustee Renee Knake Jefferson had such a moment when she spoke at the MSU Board of Trustee's meeting on 12/18/2020. She wanted the public to believe that the MSU version of the Nassar scandal was the truth and believable. The September 1, 2020 Memorandum to the United States Department of Education Office for Civil Rights regarding Lawrence Nassar Employee Action Review is one document she wanted the public to swallow as the true version of the Nassar scandal. In a speech to the MSU Board of Trustees on 10/30/2020, almost two months prior to Trustee Jefferson's speech, I pointed out that page 38 of the MSU report to OCR was a lie when it stated that MSU attorney Kristine Moore did nothing wrong investigating a 2014 complaint against Nassar. She was admonished by the Michigan Attorney Grievance Commission for violating the Michigan Rules of Professional Conduct many times as a result of a complaint I filed against her.
Trustee Jefferson, the Doherty Chair in Legal Ethics, has never addressed any ethical issues concerning the Nassar scandal and MSU. I feel that she should state whether MSU attorney Kristine Moore violated the Michigan Rules of Profession Conduct, and whether Moore should be fired. Renee could add a chapter to her book Legal Ethics in the Real World.
MSU's approach to the Nassar scandal has been one of denial, misrepresentation, and delay. This has been ongoing since MSU first hired Patrick Fitzgerald to investigate the scandal shortly after the scandal surfaced. Fitzgerald produced no report. William Forsyth reported that MSU had not cooperated with the Attorney General's investigation of the scandal. I feel that Trustee Jefferson's speech on Dec. 18, 2020, is similar to what MSU has done in the past.

Professor Renee Knake Jefferson was presented to the public as an expert on legal ethics when she was appointed as a MSU Trustee. I believe she should be proud of her CV, and is a superstar in academic law. The late Colin Powell was a greater superstar in his profession. He made a bad mistake that he regretted. Does Trustee Renee Knake Jefferson feel that she made a mistake and does she regret it?
Theodore A. Golden, M.D.